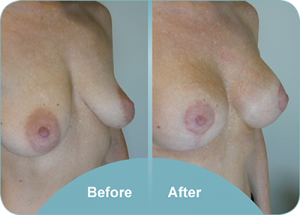 Mastopexy with concurrent breast augmentation
Breast lift (Mastopexy)
A breast lift, or mastopexy is an option for women who are concerned about breast shape changes. They may be unhappy with drooping or the way their nipples and areola point downwards. In many cases this has occurred following breast feeding or following significant weight loss. Tubular breasts may also be lifted.
There are many types of mastopexy and the technique used will depend on how much excess skin needs to be removed, if the areola needs to be narrowed or lifted to a higher position and whether a small implant is also used. The type of scar varies depending on the technique used and Mr Davis would show examples of likely scars for the technique that is most appropriate.
A mastopexy does not change breast volume, although for reasons discussed below, the bra cup size may decrease. If more volume is desired then a breast implant can be added at the same (or a later) procedure.
Frequently asked questions
The main complications after mastopexy include:
Shape change – ongoing over time
Scars
Sensation change
Asymmetry
Volume changes
Unrealistic expectations.
Despite the potential complications, most patients are very happy that they can walk around home topless (or with a very light bikini top at the beach) and their breasts now sit in a much more youthful position without the help of a bra to keep them in place.