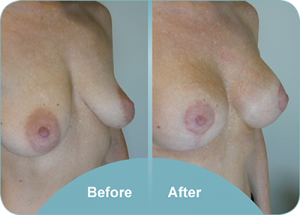 Mastopexy with concurrent breast augmentation
Breast lift (Mastopexy)
A breast lift, or mastopexy is an option for women who are concerned about breast shape changes. They may be unhappy with drooping or the way their nipples and areola point downwards. In many cases this has occurred following breast feeding or following significant weight loss. Tubular breasts may also be lifted.
A mastopexy does not change breast volume, although for reasons discussed below, the bra cup size may decrease. If more volume is desired then a breast implant can be added at the same (or a later) procedure.
Frequently asked questions
The main complications after mastopexy include:
Shape change – ongoing over time
Scars
Sensation change
Asymmetry
Volume changes
Unrealistic expectations.