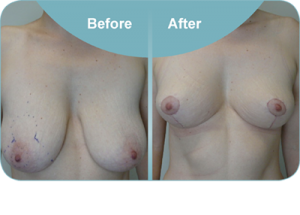 Asymmetric breast reduction with vertical plication short scar technique
Breast reduction
Most women request breast reduction because the sheer physical size and weight of their breasts causes significant physical discomfort. This may include back pain, neck pain, headaches from neck muscle strain, bra straps digging into their shoulders and fat atrophy beneath the bra straps. It may be difficult to exercise and to fit certain types of clothing. There may be skin irritation in the folds beneath the breast. Posture may be affected. Breasts may become particularly large during the menstrual cycle and when breast feeding.
Additionally the breasts may be a source of social embarrassment and unwanted attention. Many women will dress to hide the size of their breasts.
Mr Davis has done many hundreds of breast reductions and finds this surgery very rewarding because of the immediate improvements in quality of life. Most people find it is easier to take a deep breath and the relief from tightly bound bras can be profound. The removal of constant neck, back and shoulder strain is a common comment along with improved posture and ease of doing most physical activities.
Frequently asked questions
Where possible, a short scar vertical gland plication is the main technique that I use. This is a technique that evolved in France and across Europe and more recent modifications have been made in Canada. Some of the more famous surgeons names associated with vertical plication techniques are: Claude Lassus, Madeline Le Jour, Daniel Marchac and Elizabeth Hall-Findlay.
The advantages of the vertical techniques are that the bulk of the breast tissue is removed inferiorly, the breast gland tissue itself is modified in shape to produce a cone shape, the breast shape tends to hold itself more securely over time with less "bottoming out than skin tightening techniques and the inframammary crease scar can be minimised or not used at all.
The disadvantages are that the techniques is more complex and there is a learning curve, it is not suitable for massive reductions, an inframammary crease scar is still required after massive weight loss cases, and a skin ripple can be left beneath the breast that in about 10-20% of cases may need to be removed under local anaesthetic three months later if it does not completely flatten. This is at no additional charge for my patients when this is required.
Smoking greatly increases the risk of surgery complications. I want my patients to have the best possible result so please don't smoke!
A single cigarette will cause the small vessels in the skin to tighten (vasoconstriction) for about 50 minutes. This affects wound healing. The chance of nipple necrosis, a hypertrophic scar, wound edge separation and infection is much more likely in active smokers.
Smoking decreases the elastin content of the skin. Over time it will have less elastic recoil. This is most noticeable in the face with visible wrinkles but also affects breast skin.
Atelectasis, or collapse of the small air spaces in the lung, is much more common after an anaesthetic in smokers. Ideally smoking should stop a minimum of six weeks before surgery and needs to permanently stop to maintain the best results and tissue tone over time.
The main complications after breast reduction include:
Scars
Sensation change
Asymmetry
Breast feeding
Volume changes
Shape change after surgery
Infection
Bleeding.
Most breast reduction techniques will permanently affect breast feeding because breast ducts will be cut. Some women report that latching on is very difficult prior to breast reduction surgery, and it is actually easier after surgery. Even if your breasts do produce a good volume of milk, you will very likely still need to use supplemental bottle feeding.