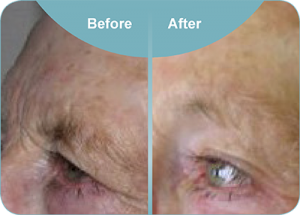 Pretrichial browlift without eyelid surgery
Brow lift
A brow lift elevates the eyebrow into a more youthful position and decreases the bagginess of the upper eyelid. In many cases it can reduce wrinkles and deep furrows of the forehead.
Frequently asked questions
It is possible to remove too much upper eyelid skin if a blepharoplasty is done in someone who really needs a brow lift. If the brow is lifted later the upper eyelids may be pulled up exposing the eye.
Surgeons should not elevate the lateral part of the brow too much as this can lead to a "surprised" look.
It is important that the hairline is not pulled too far backwards. I avoid this by using an "pretrichial" hairline incision when this is appropriate.
The frontal branch of the facial nerve (which makes the upper frown muscles work) can be damaged when stopping bleeding from the so-called sentinel vein and will paralyze one half of the forehead.
The central frown muscles (corrugators) often treated with Botox. Their anatomy is quite complicated however the central segment can be removed during an open brow lift.