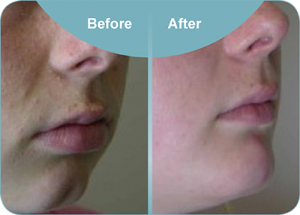 Advancement genioplasty and cleft chin correction
Chin augmentation
Chin augmentation helps to balance facial proportions in people with a "weak chin". The facial bones also "inflate" the face decreasing the propensity to jowl formation and will slightly tighten neck skin. Removal of fat beneath the chin is done at the same time if appropriate.
Many people who wear their hair to disguise their profile, or avoid having photos taken from side on have vastly improved self-confidence after this intervention.
Cleft chin correction is also performed by Mr Davis and in most cases can be done under local anaesthetic.
Frequently asked questions