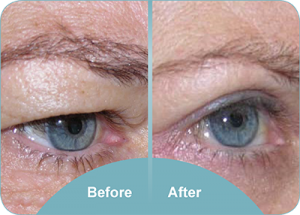 Upper and lower eyelid blepharoplasty
Eyelids (Blepharoplasty)
Creating beautiful eyelids is very rewarding.
Changes around our eyes are where some of the earliest signs of ageing are noticed. It is where we look when we interact with other people. Following surgery many people comment that their eyes look more open and feel less heavy. Often they will notice their peripheral vision has improved.
Hooded eyelids and obliteration of the skin above the eyelashes can be readily be improved with blepharoplasty surgery. Charles Davis has a lot of experience with eyelid surgery and most cases can be done under local anaesthetic as a daystay procedure.
The improvement to the eyelid appearance from side on is especially rewarding. Visualising the so called "supra tarsal" skin above the eyelashes from this angle looks much more youthful.
When the upper eyelid skin starts to sit on the eyelashes, many people subconsciously raise their brows. Chronic strain of the frontalis muscle that raises the brow causes headaches that fade away after surgery.
Frequently asked questions
Swelling and some bruising around the eyes is normal after surgery. Often this will be different on each side.
Temporary itchiness and watering of the eyes can also occur. The eyes can feel "gritty" for a while and lubricating eye drops from the chemist is helpful if this occurs.
When applying mascara and eyeliner after surgery people will be aware of numb areas. This can persist for many months.
Uncommonly blepharoplasty could lead to temporary swelling of the layers of the front of the eye and subtle blurring of vision. I have experienced one case that persisted for nearly three weeks.
If there is severe pain after surgery or significant bleeding, you must call Dr Davis and return to the clinic immediately. Bleeding into the tissues behind the eye could theoretically cause blindness. I am not aware of a case of blindness in New Zealand and the stated risk is 1:40,000.