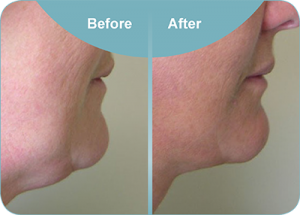 Submental and jowl liposuction
Liposuction
Liposuction is a popular procedure for areas of fat that are resistant to diet and exercise. It is often combined with other procedures such as neck lifting, facial sculpting, arm reduction, male breast reduction and abdominal wall contouring.
Liposculpture refers to the method in which the areas of fat removal are blended with adjacent regions in an anatomically appropriate way.
Frequently asked questions
Liposuction works best when the overlying skin has good elastic recoil. It does not work well with very stretched tissues when liposuction combined with skin removal will give a better effect.
It is important to leave a layer of fat immediately beneath the skin to minimise the risk of ripples, pigmentation changes, unnatural contours and visible irregularities.
A patient specific compression garment is worn for several weeks after surgery.
There are several types of liposuction performed. Mr Davis typically uses tumescent liposuction under general anaesthetic although small areas such as under the chin may be done under local anaesthetic.
The Australian Society of Plastic Surgeons information brochure about Liposuction is available on request. This has good general information including potential risks and complications. Please either email or phone us for a copy.
The cost of liposuction varies depending on the expected theatre time and consumables. For a range of the current costs please either email us or phone us on 0800 268 526..
After a consultation patients are given a fixed cost for surgery. The quoted cost for surgery covers everything including anaesthetist fees, theatre fees, consumables, staying overnight in hospital after surgery, any additional consultations after the first consultation and all the follow up for dressings and checks in the first year after surgery. This cost includes GST.