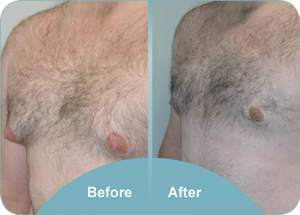 Male breasts (Gynaecomastia)
It is normal for men to have breast gland tissue. Growth of this breast tissue to give a more feminine shape can be normal during puberty and is usually self-limiting. Overgrowth can also occur during hormonal changes, weight changes and with the use of some drugs and medications.
If this overgrowth persists it can cause social embarrassment. Surgical removal is an option. Before surgery, many of my patients avoided removing their tops at the beach but felt comfortable to do so afterwards.
Mr Davis does not operate for very minor cases of gynaecomastia but is happy to recommend other local surgeons. He continues to do cases with significant deformity.
Frequently asked questions
Under general anaesthetic, liposuction of the breast gland and surrounding tissues is performed. If there is still a residual nubbin of fibrous breast tissue that cannot be removed by liposuction, this is excised using a semicircular incision around the lower areola. A compression garment is then placed. You are able to shower normally the next day wearing the garment which needs to be worn for 3-6 weeks depending on the extent of liposuction.
The breast is formed by the breast gland and a layer of fat over this. It sits on the pectoralis muscle. It is important not to remove too much tissue otherwise a hollow and unnatural shape can be created which is more noticeable than a slight prominence.
In most cases the skin will contract back down after the underlying breast tissue is removed. However in very large breasts or in cases of massive weight loss it will be necessary to remove breast skin. This will leave a scar on the breast, which is a trade off to give the best contour. The scar is orientated to be as inconspicuous as possible.
Approximately 90% of swelling is gone by two weeks after surgery but it often takes six months for all swelling to go and the final shape to take effect.
The main risks specific to gynaecomastia surgery that I warn people about are:
Very slight asymmetry
Transient numb areas on the skin
Gradual growth of residual breast gland tissue
Removing too much or not enough tissue
Unrealistic expectations about the surgical result.
The great majority of people are extremely happy with the surgical result, have a greater self esteem, are less embarrassed of their chest in social situations and have a better quality of life.