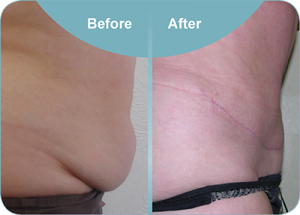 Abdominoplasty. No liposuction required.
Tummy tuck (abdominoplasty)
Tummy tucks may be done for excess skin and lax muscles after pregnancy and for people who have had massive weight loss. Charles Davis regularly does abdominoplasty surgery and this operation is an opportunity to join together (plicate) the abdominal wall muscle and remove excess skin.
Frequently asked questions
Charles will see you in your room and he will make markings on your abdominal wall whilst you are standing. These will then be checked whilst lying flat. To decrease the risk of blood clots in your legs, the nurse will give you an injection of Clexane (a type of heparin to thin your blood) and place compression stockings.
During the operation a compression pump around your calves will be activated and this stays on until you are walking. Urinary catheters are not used in standard abdominoplasty patients to encourage patients to mobilise to the bathroom after surgery which also helps with blood clot prevention.
Liposuction is performed concurrently in about 15% of cases. If a patient is overweight it is important for them to be close to their goal weight prior to surgery in order to achieve the best outcome however liposuction can be used for resistant fat pockets. It should not be used for widespread fat reduction.
Liposuction is likely to cause ongoing fluid losses for longer requiring longer drainage and can also increase the risk of an infection after surgery.
You can have a meal after surgery when you feel like it. You should expect to feel fuller sooner than usual. People who generate a lot of internal gas will also feel fuller sooner than usual until the abdominal wall relaxes.
Charles will check you again in the evening and the following morning after surgery. Most people go home the day after surgery.
The dressings are breathable and are not waterproof. While you can shower immediately, we recommend covering the dressing with Gladwrap for the first 48 hours after surgery.
A stretchy abdominal binder is worn for the first week or longer according to patient comfort. If liposuction has been done, a specific compression garment may be used for 3-6 weeks as directed.
On discharge you will be given pain relief medication and a specific information sheet with Mr Davis' contact numbers.
You will be seen in clinic the following week in most cases for the first dressing check. A district nurse will visit you at home to check the drain until this can be removed a few days after surgery.
After pregnancy, many women will lose weight and exercise regularly however despite being able to burn excess fat and tone their abdominal wall muscle, they cannot remove skin that has been stretched and exercise cannot rejoin the gap between the midline (rectus sheath) muscles. Many wish to be able to wear close fitting garments or a swimming costume without having a lower abdominal roll. Often they may have had a caesarian section and the abdominal wall has sagged over the scar causing discomfort and sometimes skin irritation.
Mr Davis will discuss these at the consultation and they are also summarised in the Australian Society of Plastic Surgeons information sheet, which is available on request.
In summary the main risks are:
Deep vein thrombosis (risk 1-2% even with all precautionary measures)
The skin above the pubic region will be numb. The area of numbness will get smaller over many months. This could be burnt without realising e.g. with a hot water bottle.
There is a permanent scar on the lower abdomen. This will fade for up to a year after surgery. This is the trade off for a better abdominal wall contour.
Some swelling above the scar is common because of lymphatic drainage disruption, some weight gain because of decreased exercise and indrawing of the scar tissue. This can take many months to fully settle.
A serious infection requiring IV antibiotics is possible (risk 1-2%)
The umbilicus has a different shape and a scar around it after surgery.