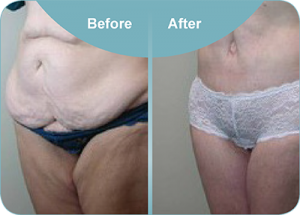 Extended abdominoplasty and inner thigh lift after massive weight loss
Weight loss surgery
Mr Davis is unable to accept new weight-loss patients until later in 2021. He recommends using the "Find a Surgeon" function on the NZ Association of Plastic Surgeons website.
Following massive weight loss, the skin cannot always contract back to its pre-stretched form. Each patient I see has their own unique anatomical shape and set of priorities.
For some people the order of priorities may be:
Abdomen
Breast lift (mastopexy)
Arm reduction (brachioplasty)
Thigh lift
Facelift.
Where possible and safe, as many areas are treated in one operation as feasible.
Frequently asked questions
For most people it is the abdominal folds that cause the most problems and so abdominoplasty (tummy tuck) is the most common procedure I do after weight loss.
What is actually done in one procedure will depend both on what is safe to do and what the costs are. Many people will also have a breast lift and arm reduction at the same time. It is cheaper to combine procedures than do them separately because of shared theatre and anaesthetic time. This also means less time recovering from individual procedures.
The costs depend on the expected theatre time. After a consultation, examination and checking what your main priorities are, I give people a cost estimate for the various combinations and they can decide just how much surgery they want to have at once.
The abdominal wall muscles are often not tightened in massive weight loss patients who have not yet had children unless they are very lax. Many massive weight loss patients have lots of excess skin but not as much abdominal muscle stretching as patients who have had pregnancies.
The scar is often longer in weight loss patients because there is so much skin to remove. The scar may also have an upside down T shape (fleur-de-Lys) in order to remove as much skin as is required for the best shape. Patients who have had a vertical scar for a gastric bypass may have a largely vertical scar after abdominoplasty with a much shorter horizontal component.