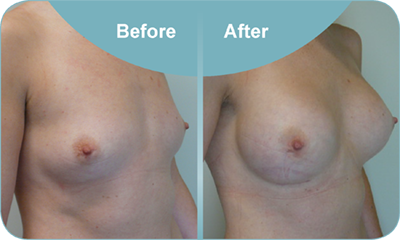 Subglandular breast augmentation with cohesive gel implants
Breast augmentation / breast enlargement
Breast augmentation is a common consideration for women who have always had small breasts, or who have lost breast volume after breast feeding or weight loss.
The great majority of people I see request a fairly natural appearance that is in keeping with their overall figure and proportions. When done appropriately it can give a significant boost to womens self confidence and quality of life.
Dr Davis is very experienced at breast augmentation surgery. He gives advice to help women decide if this is an appropriate procedure and will help guide them with many decisions including about volume and shape.
Frequently asked questions
There are a number of complications that can occur after surgery. These will be explained during the consultation and in written information given to you. Most are explained in more detail below.
Most potential complications or adverse outcomes can be improved by further surgery. In the case of breast augmentation this includes haematoma, ripples, poor position, implant rotation, implant rupture, capsular contracture and incorrect size. If the complication was caused by a technical error on my part I would fund the total cost of revision surgery. If this is not the case, for instance a capsular contracture, then I would not charge a surgical fee if the complication occurred within five years of surgery however the patient would have to fund the cost of the hospital and anaesthetic fees.
The implants I use have a guarantee from the manufacturer for rupture and severe (grade 3 and 4) capsular contracture. They would supply a new set of implants but not fund the revision surgery.